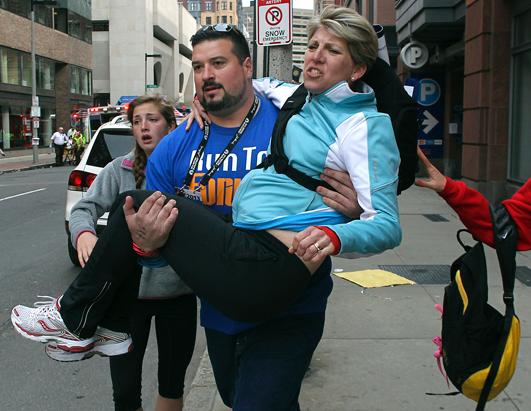 "Either we're pulling together or we're pulling apart" ~Anonymous
Boston experienced a tragedy Monday, as two bombs shattered a beautiful afternoon. Lives were lost, and the lives of many of those that survived were altered forever. However, the human spirit truly shines through during times like these. I have been inspired by the stories of people pulling together in the bomb's aftermath.
Some of the runners in the marathon kept running…all the way to Massachusetts General Hospital so they could donate blood. In fact, there were so many donors that Mass General and the Red Cross put out a statement late Monday night that they now have enough blood to meet demand thanks to those donors.
How freaking awesome is that??
Strangers were helping strangers. One person was caught on camera ripping off their belt to make a tourniquet for one of the wounded before turning to assist other victims. Other people opened their homes to those who were stranded. First Responders rushed into the chaos while everyone else was rushing out.
People rise to the occasion. Every. Single. Time.
THAT is why I will never lose faith in humanity…